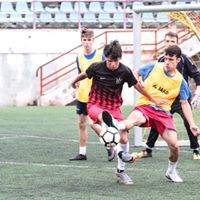 The Summer of 2018 I was offered to go to Europe by one of the CGA coaches George Hahui, without hesitation I accepted. Just the fact that you get the chance to meet with professional or former pro players is an honor and really cool experience.
Getting the chance to be coached by professional people is a very cool thing to experience because they know what they are talking about and you learn many new things. Omg, I can not get over their football facilities! They were literally the best football pitches I have ever played on, and they were all perfect ! I do not remember one single field that was in bad shape at all. Playing on those pitches was really something else.
I believe that meeting new people is one of the most important things in the world and this trip brought me the opportunity to meet many new people that I now call my friends. I still even keep in touch with many of my friends that I met in Germany and Romania.
All and all the European trip was very very fun ! I had the opportunity to meet great coaches, make new friends, train at high quality facilities, try lots of foreign food but most importantly you get to show what you have on the pitch.