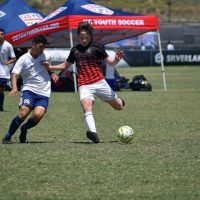 Hello, I am Evan Roan, current soccer player of romanian club Academia Politehnica Iasi, Grupa Juniori A, and former player of CGA Academy SC 2001B.
I got this opportunity to play for this Liga I academy through the help of Alin Suru and Nucu Antohi. I am very grateful to these two men for helping me pursue my passion and play soccer at a higher level. Without them and the help of others involved with CGA Academy SC I wouldn't have been given the chance to go to this new club. 
In my two months spent in Romania I lived and trained every day with my team, and got to know them and develop friendships. It was a big difference living in Romania compared to living in the United States, but I enjoyed it. Unfortunately due to Covid-19 the training and matches were cancelled for the time being. I am excited to return back there to finish the season from where we left off.